Assistance on Poor Families
Project Leader: Naomie Decko Mambou
Home Country: Republic of Congo
YYAS Program: 2019 Ghana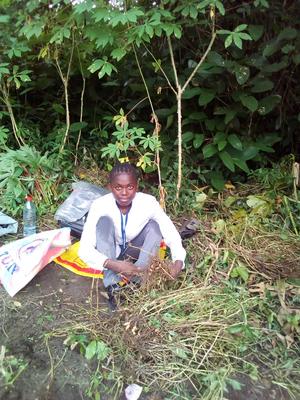 Hello, my name is Decko Mambou Naomie. I am from Republic of  the Congo and I am a YYAS 2019 Ghana alumna.
YYAS has boosted me to go straight through my initiative; YYAS has impacted me greatly. Thanks to YYAS, I feel more confident and like I can break every boundary that stands against me.
After YYAS, I definitely realized that in each part of Africa resides smart young Africans who are engaged and who tirelessly work for the welfare of their communities and the entire continent in general.
For my own Social Impact Project, I chose to call it: "Assistance on Poor Families". My principal goal is to feed people naturally with what I make myself. In this case, that means doing agricultural projects. I planted three different products for the starting point: peanuts, cassava leaves and maize.
Then, I planted my products in a small village located in the heart of the Mayombe forest  in 45km from my home place. I waited up to four months before those products harvest. The results were  different than the I expected.
In the coming days, I would widen my work in order to help more people.
It was my first time to go through the realization of my project. I think I no longer have time to waste or to wait the day I would have much money to take action and make an impact on my community because I know that small opportunities are often the beginning of great enterprises.
Last but not least I would always be thankful to YYAS program for everything it has done for me. YYAS is really a life-changing experience. I would always do my best to spread the news of YYAS program everywhere in my country so that others young people get this wonderful opportunity of attending YYAS program.