My YYAS journey began when my classmate Linet Wangui, a YYAS 2019 alumna, narrated her experience to me about the program. She encouraged me to apply and said it would be a
great opportunity to connect with fellow African students and make powerful friendships
. 
When I opened my application form, I was struck by the essay topics- they required a lot of creative thinking! My favourite essay was the one on "What past event from your country's history would you like to change?" I narrated my horrendous experience as an 8-year old girl during the 2007-2008 post-election violence in Kenya. After I wrote the essays, I made sure all the other parts were completed and submitted the application before the deadline.  
The waiting period was filled with anxiety and nervousness. A few weeks later, in April, I received news of acceptance to the program! I was very excited as this proved to be the start of something special. I was a bit disappointed after I learnt that it was scheduled to be an online program due to the Covid-19 pandemic. It was kind of hard to adjust; I was prepared to meet students from all over Africa who were passionate about making the world a better place. Nevertheless, with modern technology such as Facebook and WhatsApp, I met a few students and made introductions even before the start of the program.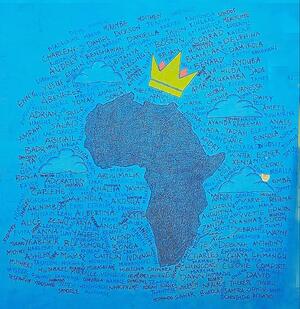 The YYAS Online experience itself was awesome
. It gave me an opportunity to use new technology (Zoom) for the first time, and I realized the magic of interacting with my lecturers online. It literally took me to the USA and back with just the click of a button! That was fascinating.
It was also a dream come true for me because I've always dreamt of attending universities in the USA but I didn't know how to until I attended YYAS. I was taught the nitty-gritty of the application process; it shed light on new variables to consider about a university, such as how effective its principles are and most importantly, its capability to transform me into a knowledgeable scholar. I was also enlightened on how to apply for financial aid in USA universities- including what documents to submit, how to use a net-price calculator to determine how much aid you require, and how to distinguish universities that offer need-blind or need-aware financial aid. I also learnt about SAT- its components, preparation, and how to answer the questions.
The seminars were also thrilling as they were always thought-provoking. My favourite one was on Language and its Effect on our Behaviour. It was fascinating to learn that the way we speak affects the way we think.
Thanks to YYAS, I was exposed to different cultures and it led me to dream about living the experience on a wider scale. Interacting with like-minded people who were passionate and inquisitive was invaluable to me. As a scholar, I now view Africa from a whole different perspective, value the love of learning and knowledge propelled by my insatiable desire to know more.
YYAS is more than just an academic enrichment and leadership program. It's a program that will invigorate your hearts and minds and bring out the best in you. Life is also never the same after YYAS. Inspirations come your way everyday and you also stand out as an inspiration to many. I'm glad of the friendships I made which I'm sure will last forever.
When I reflect back on the four days at YYAS 2020 Online, I feel content and I smile because for four days, we got to exist in our own little corner of the universe. We'll never exist in that corner again, but that's what makes it special. Thank you YYAS for giving me this amazing opportunity for an exciting and memorable experience. They say that people are the sum of their experiences and I, for one, am glad that my sum now contains my time at the YYAS program.
- Marion Wandia Mwangi, YYAS 2020 Online