---
My name is Angela Abalo and I am 16 years old and I come from Kenya. I participated in YYAS in 2019 at Mpesa Foundation Academy in Thika, Kenya. Honestly, YYAS was one of the best experiences I have ever had in my entire life. It literally opened doors, opportunities, and adventures in my life. It also gave the courage and motivation to try new things and also gave me great university guidance.
After YYAS, in September 2019, I made the first step towards a new adventure which is an exchange program in Italy. I had never traveled out of my country and I tried to keep an open mind and be positive. I was very nervous because first, I did not know even a little Italian language and the Italian people. Second, I had never boarded a plane before.
 With a little trouble I got there safely. I got lost a couple of times especially when I had to change flights at the Frankfurt airport which is enormous. I met my host family and some exchange students on the day of arrival. My host family was very warm and kind it consisted of three daughters and two parents. Their home was really beautiful and organized even though it was a small apartment. That had something very valuable which is unity and surprisingly, even the father helped out in the house chores which is something that rarely occurred in my family.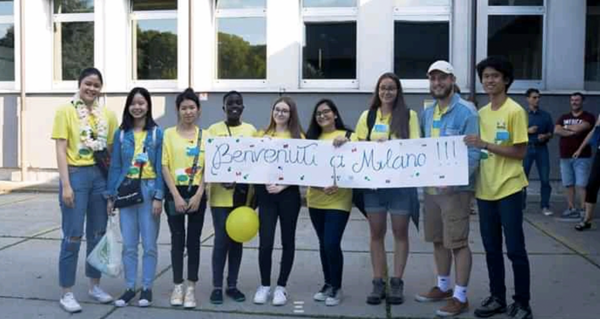 This IS A photo of the other exchange students and i on our arrival day. 
The Italian food is really good and I gained some weight within no time. What was quite different was that we ate pasta every single lunch and we had desert after every main meal. I was really happy about that because I adore junk food.
 The public transportation was really great especially in the city where I was based, Milan. There were subways, buses and electric trains which were really reliable since I could be independent when I went to hang out with friends.
Learning the Italian language was quite hard for me, but with determination I learnt it and I was comfortably speaking by the second month, although with a few grammatical errors. My host-family helped me a lot and even labeled some of the furniture in the house with the Italian words. What took me some time to adjust to is the level of the Italians' intimacy. Most of their greetings are hugs and kisses on both cheeks which is quite rare in Kenya.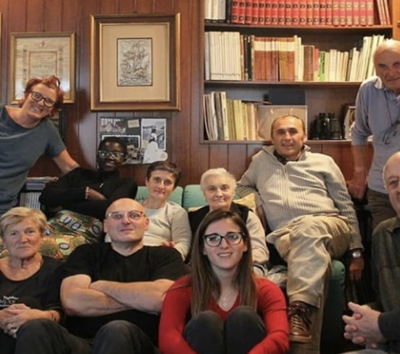 This is a photo of my host family and i in Milan, Italy. 
The best experience I had was on my 16th birthday. Birthdays are special events for Italians. My host family and friend's host family arranged for a combined birthday since our birthdays are actually on the same date. We had about fifteen people over at our house for dinner that night and I had a great time with my friends . We also watched a movie and spent some time playing 'Just Dance' on the Wii. I got lots of gifts and I really appreciated what my host family had done for me.
Attending my exchange program in Italy taught me a lot, and also allowed me to have many first adventures. I went ice skating and to the cinema for the first time, I learnt how to rollerblade,  I learnt a new Language and I even tasted new ice cream flavors and food. I also learnt valuable lessons like every culture is special in its own way, I am greater that I think and never look down upon anyone. I have always been shy but in Italy I participated in a music competition with my friend and we actually won.
The exchange program also had a lot of impact on me and since I have returned home people have been telling me that I have changed. The program has given me a lot of courage and strength since I learned how to do things independently like travelling. It has also made me more open with people which was not my nature before and I have actually made a lot of friends. It has encouraged me to pursue my passion and fight for our rights and the climate because I participated in a climate change demonstration in Italy.
For anyone who would like to go for an exchange program these are some tips:
1. Open your heart and mind to new things and experiences because the time passes so fast and if you do not enjoy yourself the opportunity may never come again.
2. Make life-long friendships with people across the world so that you may enjoy your time abroad.
3. Make sure that you learn the language in your exchange country this will make your stay very comfortable and fun.
The program that facilitated my travel is called AFS, which stands for American Field Service, but there are so many exchange organizations on the internet! Just make sure they are legitimate.
To anyone who may want to contact me:
Email: abalogellie@gmail.com
Instagram: @abalogellie