It was one invigorating Wednesday evening on March 31st, 2021, when my friend notified me that the Yale Young African Scholars Program (YYAS) admission results were out. The Yale Young African scholar program is an intensive enrichment program designed for African secondary school students planning to pursue tertiary education and wish to make a meaningful impact as a young leader on the continent. I began to ask myself in a sorrowful tone: "Did I get admitted to YYAS?". After that, I found out that I was chosen from a competitive application pool of thousands of applicants to join the unique global program, which made me more excited. I expected that the program director for YYAS would change their plan for the program to be physical instead of virtual and that I would be going to the Roberts International Airport (RIA) in a few months to embark on my historical journey to Nairobi for the Kenya session of the 2021 Yale Young African Scholars Program. A month before the program started, my expectations were not reached, and I realized that I wouldn't be traveling to Nairobi, Kenya. Sadness took over me at that moment, realizing that I would not see my friends with whom I have built strong relationships that will last forever physically. On the contrary, this expectation of mine knew ultimate defeat when the program started.
Starting Off The YYAs Program On July 21st, 2021
One thing I admired about the YYAS program on the first day was how participants welcome each other and how the Yale faculty welcomed the participants. I was joyfully welcomed by both instructors and staff in our first seminar online and other students greeted me as if they had known me before and were excited to see me again. Wow! That was really astonishing, and I never expected that of them! To me, it was like the program was in person. Based on that, I began to feel encouraged and delighted about the program, and I could anxiously hope to see the following activity each time. I also liked when we were taken to a Seminar session online where we had different instructors in different fields of studies from Yale University and other top organizations. We were inspired a lot by each one of them. Their presentations were very clear and impressive.
The SAT Session Guidance Day.
Subsequently, we had another interesting session called the SAT Prep session, which was a preparation for university enrollment. We were made to take a practice SAT diagnostic test, which I really enjoyed answering even though it had revealed itself to be challenging, particularly with time management, because I couldn't complete answering all the questions that were given to us. Additionally, we had a Discussion Session where students were made to debate for or against a notion on issues affecting African society with sharp and logical points to counteract. This session inspired me most because I learned many things about other African countries that I did not know before.
The YYAS program has been an opening program for many young people in Africa, which I have no regret in attending online. We were made to connect with new friends for every session we attended online. The students were so friendly that I felt like I was with them in person during the program.
The University Admission Guidance Day
Furthermore, we had another fascinating session called the University Guidance Session. This session was a gate-opening session for university admissions. It allowed us to interact with many admission officers from different universities and prep universities worldwide. They informed us about their various university policies, admission processes, and what they demand from applicants who wish to be admitted. We were also told about the different financial aid policies they offer to enable unprivileged students to enroll in their universities despite their financial circumstances.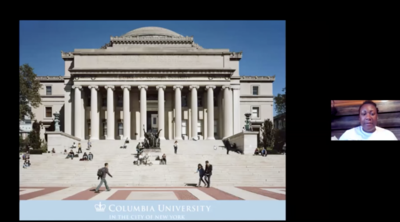 Screenshot from the Columbia University Presentation on University Admissions Day
The Closing Ceremony Day Which Finalizes the Program Activities.
Finally, I could not enjoy attending any of these activities as much as the closing ceremony day that finalized the program activities. During that day, Liberians could not be distinguished from South Africans, who could not be distinguished from Ethiopians because we were homogeneously mixed to have fun together on Zoom as if we were from the belly of one woman. This has been a fascinating experience in my life! Closing up the program on a Tuesday, when we had to say goodbye to our friends, was marked by everyone's faces filled with tears, crying for their new friends they have built strong relationships with, crying for their new friends they might not see for a very long time or might perhaps not see ever in their life again. I wouldn't have any regrets about recommending it to any of my friends for the next cohort.
My unforgettable experience with the YYAS 2021 online session has completely changed and influenced my life positively. It has connected me to many young people across Africa and the world at large. YYAS is not just a one-week enrichment program for students; it's a lifelong journey that is making Africa a better place and that I will never forget!