Rita Effah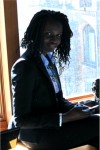 Natural Resource Management Professional
Rita Effah is a natural resource management professional by training and since 2013 has been coordinating the Energy and Resources Institute (TERI) Africa Programme in Addis Ababa, Ethiopia.  At TERI she is implementing a research project with a dynamic multicultural team from Ethiopia, Kenya and India on rural household energy access looking at improving cooking solutions and appropriate solar lighting technologies through business models.
Her research interests focus on forest resources management, rural energy access, energy security and more broadly climate change mitigation and adaptation in Africa.
From 2008-2009 she worked as an Assistant Plantation Officer with the Ghana Forest Services Division where she managed forest plantations in Southern Ghana through community forestry management project by adopting agroforestry approaches to reforesting degraded forestlands.
She has a MSc. Forest Science from Yale University School of Forestry & Environmental Studies, USA and BSc Natural Resources Management from Kwame Nkrumah University of Science & Technology, Ghana.
At TERI she works with the UNECA-Africa Climate Policy Centre, Ethiopian Ministry of Water, Irrigation & Energy, The Horn of Africa Regional Environment Centre & Network, African Center for Technology Studies among others in the areas of renewable energy technology, climate change science & policy, natural resource management & governance and capacity building trainings.