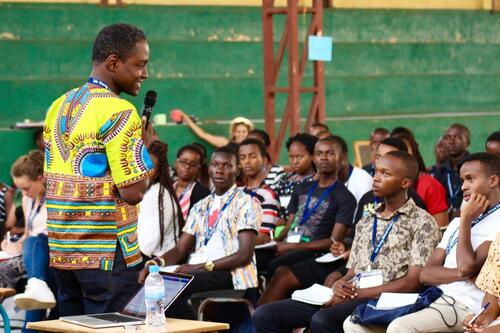 Evergreen Alex-Nworie (Nigeria - YYAS 2022)
"The community you deserve is the one you create" is a powerful line I took away from the YYAS 2022 that lives on, rent-free in my head.
Having a not-so-extroverted personality like mine never let me realize how much networking with peer change makers around me was essential to the success I hoped to attain. Before the program, my goal to gain acceptance to an Ivy League college seemed far-fetched. I was quite anxious about what came after high school, as I had not been exposed to so many global opportunities that existed - but like the great many before me, I was passionate about leaving a mark.
This passion of mine let me into the doors of Yale Young African Scholars, revealing to me a whole new world of young minds who, like me, were willing to address Africa's hardest challenges. Since too many individuals on the continent undermine the part this kind of exposure and education play in producing the "future leaders of Africa", addressing this need to provide these opportunities for African youth is critical. Acknowledging that we all have the potential to leave our marks in so many divergent ways, YYAS has come to offer a leg-up to those young Africans who are willing to make a change in their own little worlds.
From seminars by individuals such as Dr. Peter Blair (faculty member at Harvard University), Eddie Mandhry (former Director of Africa and the Middle East for Yale University and current Senior Fellow at Schmidt Futures), to university guidance, family time and career talks (not forgetting the initial application process, it was a "grade A" tip of the iceberg of a university application!)
Each and every bit of the program was so inspiring and worth every minute spent online. Looking back on it all, I would say it is necessary to quit being comfortable or being just a local champion, but we must explore, meet new people, and always think of what you have to offer, instead of what you can get from society.