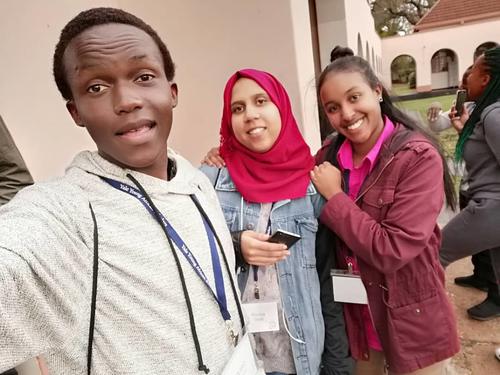 My name is Ephrathah Tadesse and I am from Ethiopia. Fortunately I took part in the YYAS 2019 program in Zimbabwe.
I first learnt about the program from my family. I was really amazed in finding a program that aims at teaching African student about the whole university application process. I hesitated before applying because I wasn't sure if I was qualified for the program, but I took the risk. I can't explain the feeling  when I received an email saying I got accepted into the program.
At YYAS, meeting new people,learning about their culture and making friends meant the world to me. The seminars I took were all interesting. I got a chance to learn and broaden my scope along the way. For me, the university guidance was the best thing I had encountered and had made my experience at YYAS unforgettable.
We were taught how we should apply, what criteria we must focus on while choosing a university and also about financial aid.
The SAT lessons we had were so helpful. We took SAT test, which was a bit terrifying for me because it was my first, but I got to learn from my mistakes and that's what counts. Not forgetting the lectures, discussion and workshop which were all educational but also fun and memorable.
The whole eight days was a life changing experience. The unique system of the program enabled us to be focused on reaching our goals. The freedom to express our opinion has helped us to built a great relationship among our peers and instructor. Till this day I still can't believe I got a chance to attend the program. YYAS has made the biggest impact on my life. I believe if anything comes your way  GO FOR IT! TAKE THE RISK AND YOU WILL SEE THE DIFFERENCE!
Blog by Ephrathah Tadesse YYAS 2019 Zimbabwe Session
Check out her blogsite here: https://ephinewadress.blogspot.com/2019/10/my-unforgettable-experience-at-yyas.html