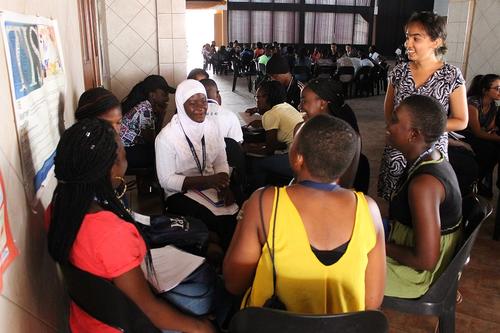 On July 25, the Yale Young African Scholars (YYAS) program kicks off its 2019 season with sessions in Accra, Ghana; Harare, Zimbabwe; and, for the first time, in Nairobi, Kenya.
YYAS brings together African secondary school students for a cost-free, seven-day residential program designed to introduce students to the U.S. university and financial aid application process and requirements.
Administered by the Yale Young Global Scholars Program and building off that model of an interdisciplinary academic curriculum, YYAS participants attend lectures led by prominent Yale faculty, seminars by Yale student instructors, and experiential exercises designed to augment their leadership skills. Participants engage in robust intellectual exchanges that are crucial to understanding Africa's most pressing challenges and opportunities.
In addition to the introduction to university application processes, Yale student-led courses and leadership training, YYAS participants also receive standardized test preparation lessons, which are designed especially for African test-takers new to exams like the SAT.
Host nations and program dates are:
Ghana: July 25 – Aug. 1
Kenya: Aug. 7 – 14
Zimbabwe: Aug. 18 – 25
All YYAS participants are citizens of an African country between the ages of 14 – 18 and currently attend school on the African continent. This year's cohort of 300 students is the most diverse since the program's inception. It includes students from over 40 different African nations who attend over 280 secondary schools. With such diversity, Associate Director of YYAS Lucy Appiah describes the program as "synonymous with the African Union (AU) Assembly. The competitiveness of YYAS, which has an acceptance rate lower than 6% this year, makes each participant an outstanding leader and representative from his or her country."
Thanks to the support of the Higherlife Foundation, YYAS continues to be free to all participants and offers travel stipends for students from low-income backgrounds.
Further support for the YYAS program comes from partnerships with youth and education access-focused organizations working in each host country. Ahaspora in Ghana, Education Matters in Zimbabwe, and new partner Akili Dada in Kenya will run parallel Educators' Conferences for 180 teachers, headmasters, and advisers from African secondary schools in their regions through the Higherlife Foundation's support. With expert contributions from new partner universities such as Johns Hopkins, Rice, and Ashoka, and existing ones such as Columbia, Rochester, and Sciences Po, these conferences will introduce the educators to university guidance strategies and resources so that they can offer application support to all the students at their schools who may want to pursue tertiary education abroad. By equipping both students and educators with information about university access, the YYAS program aims to magnify its ability to support students across all of Africa.
For additional information about YYAS or the program's partners, visit the YYAS website or contact african.scholars@yale.edu. YYAS is also on Twitter and Facebook.