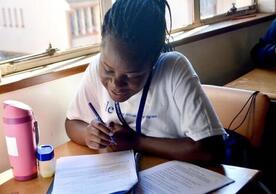 YYAS is a high-intensity academic enrichment and leadership program that brings together outstanding secondary school students from across Africa. Students are exposed to the rigorous university admission and financial aid processes, attend college-style seminars led by university graduate and undergraduate students, and build a network of peers from across the continent.
The live sessions will take place from July 21st to July 27th, 2021 and be held virtually via Zoom. In addition to the college-style seminars, students will attend specially curated and interactive meetings led by world-renowned social entrepreneurs, United Nations Young Leaders for the SDGs, and phenomenal YYAS Alumni. Some sessions include a Social Impact Panel where students will learn about how they can make a difference in their own community, and Career Guidance sessions, where professional leaders in technology, public health, communications, and entrepreneurship will share their stories, advice, and resources.
As diverse as ever, the 2021 cohort boasts 396 students from more than 250 different secondary schools and 37 African countries, including Madagascar, Angola, Seychelles, and Mali. All admitted YYAS participants are between the ages of 14-18 and currently attend high school on the African continent.
In line with YYAS' commitment to accessibility, the program remains free of charge for all students. YYAS has also teamed up with telecommunications companies in various African countries to provide internet data support to students in need. YYAS extends a special 'thank you' to  MTN Rwanda, MTN Ghana, MTN Eswatini, MTN Uganda, MTN Zambia, Econet Zimbabwe,  Econet Lesotho, Safaricom Kenya, and Mascom Botswana for their support. 
Following the virtual YYAS sessions, new alumni will have the opportunity to receive mentorship through the online YYAS Mentorship Program The mentorship program is designed to help students refine their essays and applications as they apply to universities and gap year programs across the world. Graduated students will also have the opportunity to submit their own Social Impact Project and engage in various alumni progrmaming over the course of the year.  
To keep up to date on the latest YYAS news, including information on the 2021 sessions, make sure to follow us on Facebook, Instagram, Twitter, YouTube, and LinkedIn. Any questions can be directed to african.scholars@yale.edu.