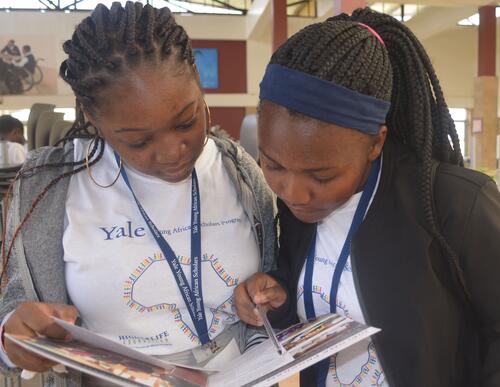 On July 20th, Yale Young African Scholars (YYAS) kicks off its 2022 program with a seven-day, online session bringing together over 360 secondary school students from 35 different African countries. YYAS is an intensive academic enrichment and college access program designed to help guide and prepare students as they transition to life after secondary school. The online sessions will take place from July 20th to July 26th 2022 on Zoom.
YYAS participants engage with university representatives while learning about the rigorous admissions and financial aid processes. We have the following universities joining us this year at YYAS 2022: Columbia University, the University of Toronto, Kwame Nkrumah University of Science and Technology, Oberlin College, Carleton College, Ashesi University, the University of Chicago, the University of Alberta, Minerva University, Johns Hopkins University, African Leadership University, Macalester College, Sciences Po, Emory University, Cornell University, McGill University, the University of Pennsylvania, NYU Abu Dhabi, and Africa University.
Participants also take part in unique college-style seminars led by undergraduate and graduate students and connect with a diverse network of impact-driven peers from across Africa. Our seminar instructors, many of whom are African or of African descent themselves, come from a range of institutions including Yale, Columbia, Rochester, Tufts, and Brown.
In addition to college-style seminars, students will attend interactive sessions led by prominent social innovators who work to bring greater equity to health care and education, industry leaders in Technology, Health, Entrepreneurship, and Creative Arts & Media, as well as YYAS alumni who have been recognized as Rise Global Winners. These sessions range from exploring careers and sharing insights to learning about community impact and passing on best practices. Our speakers include Dr. Peter Blair, Dr. Lydiah Bosire, Dr. Charles Akhimien, Isaac Sesi, Ope Bukola, Eno Inyangete, Julia Jenjezwa, and YYAS alumni Oboroghene Ogbevire and Kuir Makuol.
In line with YYAS's commitment to increasing accessibility to quality educational opportunities, YYAS is a free program for all admitted students. Additionally, this year YYAS has teamed up with telecommunications companies in several African countries to provide internet data support to allow all students to access the online program regardless of background. We especially thank MTN Rwanda, MTN Ghana, MTN Zambia, Econet Lesotho, and Econet Zimbabwe for their generous support.
After the online sessions in July, new alumni will have the opportunity to receive mentorship from current university students, early career professionals, and older YYAS alumni who have successfully transitioned to university. The program is designed to ensure students have access to a mentor who will help them refine their essay writing and guide their decisions about their applications to university and gap year programs globally. Alumni also have special opportunities such as volunteering, participating in the Social Impact Challenge, and other alumni programming in the years to come.
To keep up to date on the latest with YYAS, make sure to follow us on Facebook, Instagram, Twitter, YouTube, and LinkedIn. Any questions can be directed to african.scholars@yale.edu