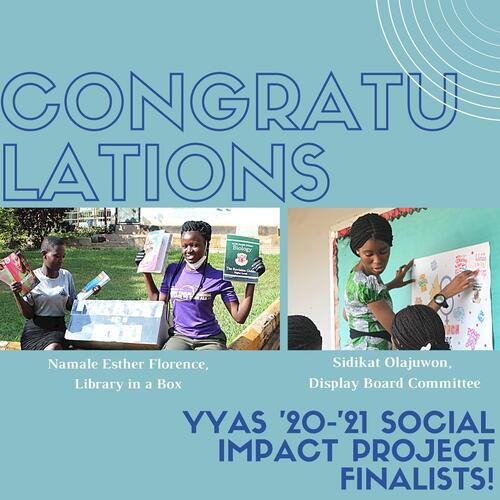 We are very excited to introduce our two finalists from our 2020-2021 Social Impact Project! Congratulations to Namale Esther Florence from Uganda for her project, Library in a Box, and Sidikat Olajuwon from Nigeria for her project, Display Board Committee.
Library in a Box
Namale is the creator of Library in a Box, an initiative designed to bring books and educational materials to students in need, and she made an insightful video showcasing her important work increasing access to education in Uganda. Check out her video below to learn more about her project:
Display Board Committee
Sidikat began the Display Board Committee at her school to make better use of the notice boards placed in strategic places around her school in order to spread accurate information to her community. After her committee of students made an overall redesign of the board, they observed more people stopping and reading what was displayed.
This board was also an opportunity for members of the committee and the wider school community to share their creativity through poems, articles, and reporting on events. In a short period of time, the committee had a journalism group that published articles that even ended up being part of the school newsletter and the yearbook.
We are proud of all our alumni who go back to their homes with a sense of agency to shape their communities, no matter the challenge.