In 2019, the Yale Young African Scholars (YYAS) Program introduced a new initiative to participants: The Social Impact Project. This project challenges alumni to identify and address needs in their communities through strategically designed projects. Alumni are encouraged to start making a difference now by engaging their communities in meaningful activities to effect lasting change. Alumni can address any topic with their project and should strive to set relevant and reachable goals and activities; reporting outcomes to the YYAS Program by April 31st of each year. In line with YYAS's mission and vision, the goal of the project is for alumni to use their gained skills and knowledge to become engaged citizens, change-makers, and leaders in Africa and beyond.
Meet this year's winners! 
---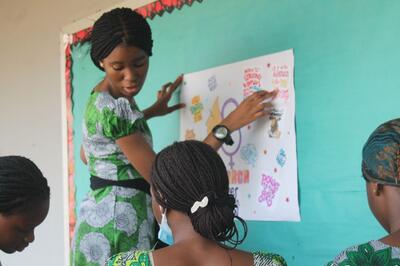 Sidikat Olajuwon is a YYAS 2020 Online alum from Nigeria. After the program, she founded the Display Board Commitee with peers in her school to centralize information, showcase student talent, and organize the student body. "If there was something the COVID-19 outbreak taught me, it was that most communities in my country, Nigeria, suffer from cases of misinformation.The Display Board Committee project I started in my school, City of Knowledge Academy, Ijebu-Ode, Ogun State, Nigeria is a project running to solve this same problem in such a very small community."
---
Namale Esther Florence is another YYAS 2020 Online alum from Uganda. Namale is involved with many activities at her school, but submitted her newest venture, Library in a Box (LIB), for her Social Impact Project. LIB is designed to allow vulnerable students access to educational materials that were lacking during the COVID-19 pandemic. "The project networks with partner schools to collect reading materials and reference which are put in a wooden box which is stuck on a motorbike which rides through vulnerable communities distributing to learners." Check out Namale's video below for more insight into her project: 
---
YYAS is so proud of all the amazing alumni making change all over the world. Congratulations again to Namale and Sidikat! We hope their projects continue to inspire the next generation of change-makers in Africa and beyond!