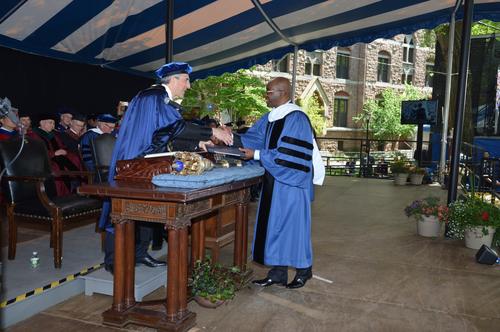 Zimbabwean entrepreneur and philanthropist, Mr. Strive Masiyiwa, was among eleven individuals who received honorary doctorates at Yale University's 318th commencement. Mr. Masiyiwa himself received an Honorary Doctor of Humane Letters.
He was conferred the degree by Yale University President Peter Salovey who stated the following: "You see opportunities others miss and demonstrate the courage of your convictions at every turn. Brave visionary, bold business leader, and devoted humanitarian, your innovation and generosity have transformed a continent and improved countless lives. For inspiring us to tackle great challenges, lead with honor, and serve others, Yale is privileged to confer on you this Doctor of Humane Letters degree."
To read the full article on YaleNews visit: https://news.yale.edu/2019/05/20/biographies-yales-2019-honorary-degree-recipients
Strive and his wife, Tsitsi Masiyiwa, have promoted basic education among thousands of disadvantaged children and supported young talent development by offering scholarships to gifted students across the African continent through the Higherlife Foundation. The Yale Young African Scholars Program is made possible through the generous support of Higherlife Foundation.
Higherlife Foundation's initial gift helped to support an expanded YYAS program to include three sessions per year in 2016, 2017, and 2018, with 100 students in each session held in three host countries. Building on this success, the Higherlife Foundation has agreed to extend the YYAS program for another five years. This next phase will see an even greater and sustained commitment to further YYAS's goal of training and mentoring the next generation of African high school student leaders.