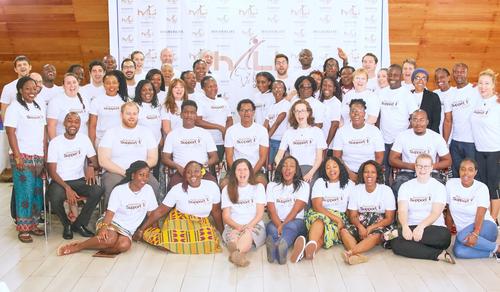 Funded by the Higherlife Foundation, the 2019 HALI Indaba brought together the HALI Access Network's 38-member organizations at a conference center situated on the banks of the beautiful Volta River in eastern Ghana from 26-29 April. The organizations, which work with over 2,000 high-achieving, low-income (HALI) high school students per year across 20 African countries, were joined by nine admissions officers from universities and colleges in North America, the Middle East and Africa. Also in attendance were representatives from the Yale University's Center for International and Professional Experience and the Yale Young African Scholars Program (YYAS), which is sponsored by the Higherlife Foundation and is a flagship program of the Yale Africa Initiative. In 2018-2019, YYAS served as the secretariat and convened this exceptional network dedicated to mentoring the next generation of African student leaders.
Now in its fourth year, this year's Indaba theme was 'From Success to Support,' focusing on how member organizations can support their alumni as they transition into university and, later, back to the continent after graduation. Network members and university admissions representatives presented information and led discussion sessions on topics including mental health support, helping alumni to stay connected with and to give back to their home communities, and supporting students from conflict-impacted regions. One participant commented that the indaba offered, "some fascinating and well thought out sessions, with the focus on mental health and wellbeing of students as a critical conversation each year…" and another remarked that, "data sharing, in particular, allowed for different organizations to gain helpful insights into the work generally being done in university access across the continent."
In addition, the Indaba provided an invaluable opportunity for professional development of Network members. Highlights included a featured presentation on universities in Africa and Asia, a nuanced financial aid presentation, and a discussion of how members' programming can benefit from use of the Duolingo English Test (DET), which has been made free to all Network-represented students thanks to a generous partnership with the Duolingo language learning platform.
Finally, the gathering of Network members allowed for important planning for continued development and growth. The Network launched an exciting new program to facilitate peer-to-peer mentorship among members, and then led a brainstorming session to help identify key areas in which the Network can raise awareness of and advocate for reduction of barriers to HALI student university access. Among others, members identified the continued need to reduce university reliance on standardized testing as a deciding factor regarding admission and financial aid. One member wrote that, "the power of HALI is the network, which comes down to support, visibility, collective might" and all participants left the event feeling inspired and motivated to push for more visibility of, and opportunity for HALI African students.
Other highlights of the program include the opportunity to learn more about Ghanaian universities Kwame Nkrumah University of Science and Technology (KNUST) and Ashesi University. Ashesi and African Science Academy hosted our members for a campus tour experience after the indaba. One visitor remarked later that, "there is inevitably a wonderful vibe at these events, and I love exchanging ideas with so many like-minded people who have similar goals. I also enjoy visiting places related to what we do, like going to ALU last year and Ashesi this year!" Participants also enjoyed a night of 'Anansesem' storytelling, following the Ghanaian tradition of sharing stories and songs that teach valuable lessons while highlighting various African cultures.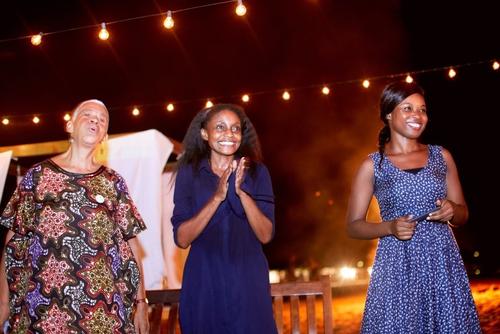 Without question, the annual HALI Access Network Indaba is a highlight of the year for member organizations and university representatives recruiting from the African continent. Participants benefit from meeting with like-minded colleagues working in similar circumstances and facing similar challenges, all of whom come with a spirit of collaboration and ready to share best practices and new ideas. This year stood out as the first in which members felt like a large and truly pan-African and unified group that is diverse, yet working very closely together. As one participant concluded, "I, like many if not all HALI members, belong to some pretty good networks. What differentiates HALI is the fact that it's one of a handful of events that actually adds real, tangible value to my work and my students' lives. Unlike a year ago, my students now know that access to higher education is not just something to dream about but a goal that is well within their reach. This is important not just for student or national growth, but for the growth of the continent as a whole. Attending the Indaba only gets better with every year. Thank you, Higherlife Foundation, for making this possible!"
By Laura Kaub, Past Chair, HALI Access Network (2018-2019)