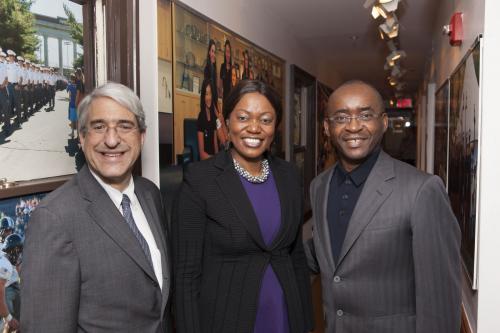 New Haven, Connecticut — Yale University and the Higherlife Foundation are pleased to announce a commitment to extend the Yale Young African Scholars program (YYAS) for another five years, made possible through the continuing generosity of Zimbabwean-born philanthropists Strive and Tsitsi Masiyiwa.
Building on the success of Yale's initial three-year partnership with the Higherlife Foundation, this next phase will see an even greater and sustained commitment by the Higherlife Foundation to further YYAS's goal of training and mentoring the next generation of African high school student leaders. Thanks to this support, over the next five years YYAS will continue offering a free academic and enrichment program that helps high-achieving, low-income African youth prepare themselves for college and university.
"I am so thankful for the visionary support that Strive and Tsitsi Masiyiwa provide through the Higherlife Foundation to make the Yale Young African Scholars Program possible," said Yale University President Professor Peter Salovey. "YYAS already has educated and mentored hundreds of students who will shape Africa and the world in the years ahead, and I have no doubt the program's influence will continue to grow."
"Strive and I are excited to confirm that we intend to support YYAS for another five years and continue developing a truly unique leadership program and academic experience for some of the brightest young minds on the continent," said Tsitsi Masiyiwa, Co-Chair of the Higherlife Foundation. "Through the YYAS experience and our shared commitment with Yale, I believe we have an exceptional opportunity to build a formidable education pipeline for Africa's emerging student leaders."
By the end of summer 2018, the Higherlife Foundation already will have supported 900 African high school students to attend YYAS. In addition to learning from Yale faculty, students, and staff during the summer sessions, YYAS participants become part of a robust mentorship network in which they are paired with local partner organizations, who help advise them throughout the university application process. A signature program of the Yale Africa Initiative, YYAS is modeled on and administered by the Yale Young Global Scholars program.
The Higherlife Foundation was founded by Mr. and Mrs. Masiyiwa to promote basic education among thousands of disadvantaged children and to support youth talent development by offering scholarships to gifted students across Southern Africa.
President Salovey and Mr. Masiyiwa will participate in a town hall at the University of Ghana at 10:30am EST (2:30pm GMT) on Tuesday, March 13, 2018, entitled "The Power of Partnership: Strengthening Education," where participants will be discussing YYAS as well as other impactful educational programs across Africa. A link to the Facebook Live stream will be made available here: http://bit.ly/AfripreneurTalk.
For more information, please contact african.scholars@yale.edu or visit YYAS online. You can follow YYAS on Twitter and Facebook to stay up to date on all program news and announcements.