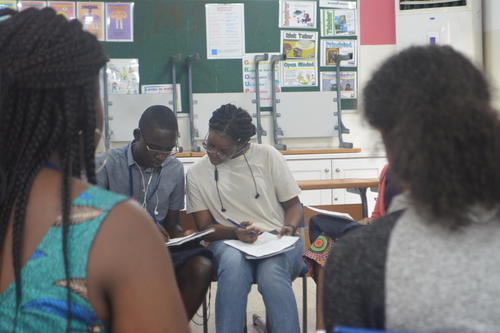 The Yale Young African Scholars (YYAS) Program has officially completed its 2019 sessions, offering academic enrichment opportunities to outstanding African secondary school students. The sessions took place in three cities on the African continent this past summer: Tema, Ghana; Thika, Kenya; and Harare, Zimbabwe.
YYAS 2019 saw its largest applicant pool and most diverse cohort yet, with 294 students from 37 different countries. YYAS Associate Director, Lucy Appiah, describes the program as "synonymous with the African Union Assembly." According to her, "the competitiveness of YYAS alone, having an acceptance rate lower than 6% this year, makes each participant an outstanding leader from his or her country." Students gathered for three separate eight-day sessions to learn more about university admissions and financial aid processes, practice standardized test-taking, and develop their critical thinking skills.
YYAS is designed to expose students to new ideas and experiences while also preparing them to apply for and gain admission to tertiary education institutions and gap year programs across the globe. In the 2019 sessions, schools including Rice University, Johns Hopkins, and NYU Abu Dhabi as well as gap year programs such as African Leadership Academy came to speak to students about application processes and financial aid opportunities. Students got to see real college applications and received individualized SAT test preparation designed specifically for African test-takers. Following the program students will receive mentorship, either in-person or online, to help them in their university application processes.
Outside of these important university guidance sessions, students were exposed to college-style lectures led by world renowned Yale faculty including Dr. Michael Cappello, who discussed global health and medicine. Alex Asiedu, a Maurice R. Greenberg World Fellow and local African change-maker, also spoke to the students on topics relating to social entrepreneurship and African solutions to African problems. Following these sessions, students were engaged in small group discussions designed to enhance their communication and problem-solving skills, as well as further develop their leadership capabilities and help them create a network of peers across the continent.
Fai, a participant from the Kenya session, said, "The few days I spent in Kenya were truly life-changing. Meeting new, kind and inspiring people was one of the best parts about the program. I made many new friends. I also got to learn about other African countries and their cultures, religions and traditions. I realized that though we are separated by boarders, we are not too different from each other. We share a lot in common."
While the YYAS sessions were underway, concurrent educators' conferences ran in each of the three countries. Educators, guidance counselors, and headmasters from around Africa gathered to learn more about supporting students through the college application process. These events were organized by YYAS's three local partner organizations, Ahaspora Young Professionals Network in Ghana, Akili Dada in Kenya, and Education Matters in Zimbabwe. Educators heard from Ashesi University, Sciences Po, Columbia University, and more on university guidance strategies and the resources available for high-achieving, low-income students across Africa.
The amazing sessions in Ghana, Kenya, and Zimbabwe were made possible through the support of HigherLife Foundation. Because of their contributions, YYAS continues to be free for all students and can offer fully-funded travel stipends for students from low-income backgrounds.