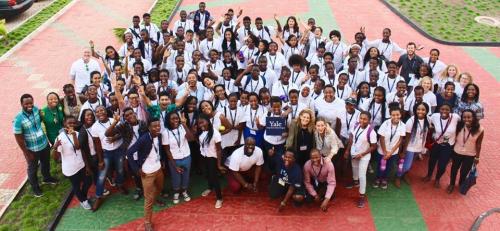 After an outstanding summer in Rwanda, Ghana, and Zimbabwe, the Yale Young African Scholars program(YYAS) welcomed 300 of Africa's most talented high school students to its growing alumni network. The 2016 cohort represented 25 African countries and brought together students from various socio-economic backgrounds. YYAS is an academic and leadership program that seeks to provide the next generation of Africa's leaders with the skills and mentorship needed to navigate the U.S. college admissions process. The program is made possible through a partnership with the HigherLife Foundation, and run in close collaboration with the Whitney and Betty MacMillan Center for International and Area studies at Yale. YYAS is the flagship student program of the Yale Africa Initiative.
Administered by the Yale Young Global Scholars Program and building off that model of interdisciplinary academic curriculum, YYAS participants attended lectures led by prominent Yale faculty, seminars developed by Yale student instructors, and experiential exercises designed to augment their leadership skills. Participants engaged in robust intellectual exchanges that are crucial to understanding Africa's most pressing challenges and opportunities. Moreover, workshops led by Yale students fulfilled a core part of the program's mission to equip YYAS participants with a thorough understanding of the U.S. college admissions process. In addition to courses and leadership training, YYAS offered standardized test preparation sessions, and will continue to offer online sessions through their test dates, at no cost to the students.
"(YYAS) allowed us to be open minded and explore different ideas that we wouldn't have thought of if we weren't a part of this program," said Kalkidan Mesfin, a participant from Ethiopia who attended the YYASsession in Rwanda. "I would describe this program as a life changing experience. A program that is led by a group of extraordinary minds, a group of people who encourage us to ask questions and demand answers. I know that we are the future of our continent and that we are going to lead Africa," said Mesfin.
To ensure the program's long-term success, YYAS continues to deepen its network both on the continent and across universities in the US. YYAS has entered into formal collaborations with experienced local partners in each host country (Imbuto Foundation in Rwanda, Ahaspora in Ghana, and Education Matters in Zimbabwe) to further support student needs. YYAS also welcomed other U.S. universities (Stanford, Columbia, University of Rochester, University of Pennsylvania, Michigan State University and Brown) to present to students and lead workshops for African high school teachers and counselors. The two-day educators' workshops aimed to address the gaps in understanding the U.S. college admissions process on the continent and gave African educators the skills needed to better support their students through their applications.
At the end of the summer, YYAS students were paired with mentors – current U.S. college students and young professionals – or matched to a local partner organization on the continent. The students will continue to receive this mentorship support, as well as the free online test prep, through the time that they submit their US college applications.
Through continued collaboration with the HigherLife Foundation, the Yale Young African Scholars Program will mentor 1,000 African secondary school students by 2018.