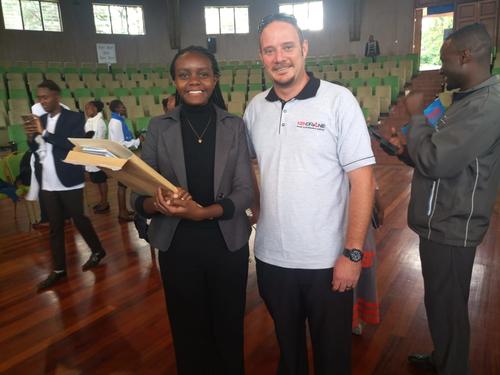 Yale Young African Scholars (YYAS) alumna Natasha Sikinyi is the Africa Regional winner of the International Civil Aviation Organization (ICAO) Concepts Competition for innovative aircraft ideas.
As a part of ICAO's 75th anniversary celebrations, the Concepts Competition was launched to encourage new aircraft type proposals from young aviation devotees from around the world. Applicants were tasked with creating a visual and written representation of their idea to submit to the committee.
Natasha came up with the concept of a medical drone as a response to the ground traffic issues in her home country of Kenya. Pogotowia, which translates to air ambulance from Portuguese, will transport ailing persons to hospitals safely and conveniently by air.
"I was really excited when I found out that I was the winner for the whole of Africa; it has opened so many doors for me. I have been granted a scholarship to train as a drone driver at KenDrone in Mombasa," Natasha told YYAS.
Natasha participated in YYAS's 2019 Zimbabwe session this past August. YYAS has an incredible network of alumni from across the African continent, and we are proud to count Natasha as one! 
Read more about ICAO's contests and winners here: https://www.unitingaviation.com/strategic-objective/general-interest/icaos-75th-anniversary-future-aircraft-design-contest-winners/