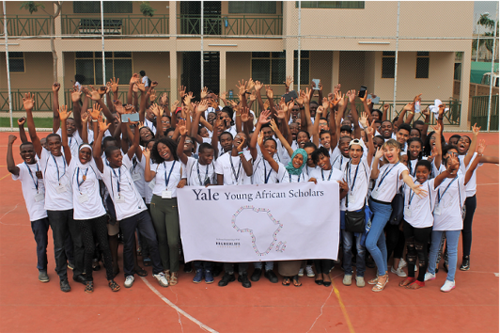 Yale Young African Scholars (YYAS) has officially opened its application for the upcoming 2023 program.  As our team continues to adjust back to in-person programming amid the ongoing Covid-19 pandemic, YYAS plans to offer both an online and in-person program next July and August. The programs will take place 30 July to 5 August (online) and 11-18 August (Zimbabwe). More details will be shared with prospective students and applicants in the coming weeks. You can learn about the program here.
YYAS is designed to bring together high-achieving and socially-conscious secondary school students from across the African continent. Regardless of the format, students can expect  a week of university-style seminars, workshops on career exploration and university admissions, interactions with industry and academic professionals from Yale and beyond, and networking with a pan-African cohort of peers. Asynchronous and synchronous programming will be a critical part of both programs. No matter how students join the YYAS community, both sessions in 2023 will be interactive and transformative experiences that will help prepare young scholars who will lead meaningful change in their communities and abroad.
The 2022 program gathered a fantastic cohort of 326 students from 35 African countries. Highlights include a motivational Social Impact panel which included two YYAS alumni who are among first cohort of 100 scholars chosen by Rise for their efforts in social impact, a university fair with representatives from North America, Africa, and the Middle East, in addition to inspiring seminars led by current undergraduate and graduate students on topics such as Sustainable Architecture, How to Make Your Own Documentary, Artificial Intelligence, and Decolonizing African Education. 
One 2022 participant from Mauritius summed up their experience: "I have never learnt as much as I did here and it was incredibly enriching. My mind is filled with so much information that I have acquired from all my instructors and most importantly, I now have bigger and better perspectives of how I want to carry out my future studies."
­­To apply, students must submit an online application that includes one essay and two short-answer prompts. Students must also upload an official school transcript or grade report. We also strongly encourage students to provide the contact information for one teacher who knows them well enough to fill out an online recommendation form.
YYAS is a proud member of the HALI Access Network and gives admissions preference to high-achieving, low-income (HALI) students who do not have university guidance in their schools or communities, since alumni are eligible for a post-program mentorship to assist with university applications.
Apply Now: https://africanscholars.yale.edu/admissions/how-apply
Application Deadline: 01 February 2023 at 11:59pm EST