Hon. Valentine Rugwabiza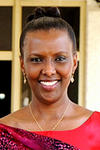 Minister of the Ministry of East African Community
Ambassador Valentine Rugwabiza, is the Minister of the Ministry of East African Community appointed on July 24, 2014.  She has been the Chief Executive Officer of the Rwanda Development Board and a cabinet member. She has extensive experience in both the public and private sector where she held senior management positions.
Between 2005 and 2013, she served as the Deputy Director-General of the World Trade Organization.
Prior to joining the World Trade Organization, she served as Rwanda's Permanent Representative to the UN in Geneva, and Ambassador Extraordinary and Plenipotentiary to Switzerland. During her tenure as an Ambassador, she was the Coordinator of the African Group of Ambassadors in the WTO.She was a member of the Council of Economic and Social Affairs in the Office of the Rwandan President in Kigali.
Ambassador Valentine Rugwabiza is a founding member of the Rwanda Private Sector Federation, the Rwanda Women Entrepreneurs' Organization and the Rwandese Women Leaders' Caucus.